"Toate-s vechi și nouă toate"
Colecție de imagini, proces, evenimente cu și despre litere.

Mai 2019 — Type Thursday BUC
Practice free writing.
By no means a perfect approach, much rather, a clearing of the cache drawer, making room for the new. In a few words this is what drawing a typeface was about here.

Also this is fueled by getting back to nature, going full freelance and managing a small digital foundry, finding time for other things like cycling, or gardening, planting and pruning trees, listening to the old folks, trekking in the backyard. Getting involved in domestic activities & including that in the process.


---

When starting design on a new typeface, I usualy like to draw and redraw some of the letters that could give its character and let them be for a while. Then if you still want to meet the family, it might be a good idea to pursue it further. Thankfuly this here seems to have been such a case.

It began when I found an old magazine cover while browsing online. A magazine cover from an old Romanian publication called România Pitorească. In the context of that moment it fitted like a glove as I was descovering also the exploits of a group of people that took to hiking some of the local trails and mountains while documenting where they went and what they saw in these parts of the world. I found inspiration in that and thought it would make for a good project. Did a little research to see what else I could find, in terms of letters, or existing fonts on this subject. The amount of information that I found to be available online on old Romanian publications was small though so that I decided to get in, trace and reinterpret the two capital letters that initially caught my eye.


Practică scrisul liber.
Nu este deloc o abordare perfectă, mai degrabă o curățare a sertarului de cache, făcând loc noului. În câteva cuvinte, ce a însemnat desenarea unui font aici.

De asemenea, acest lucru este alimentat de revenirea la natură, la activitate independentă, gestionarea unei mici fonderii digitale, găsirea timpului pentru alte lucruri, cum ar fi ciclismul, grădinăritul, plantarea și tunsul copacilor, ascultarea bătrânilor, trekking prin curtea din spate. Implicarea în activități casnice și incorporearea acestora în procesul de lucru.


---

Când încep proiectarea unui nou font, de obicei prefer să desenez și redesenez câteva dintre literele care i-ar putea da caracterul și le las deoparte pentru o vreme. Dacă tot dorești să cunoști familia apoi, ar fi o idee bună să continui. Din fericire, acest exemplu pare să fi fost un astfel de caz.

Proiectul a început când am găsit o copertă veche de revistă în timp ce navigham online. O copertă de revistă de lao veche publicație românească intitulată România Pitorească. În contextul acelui moment, se potrivea ca o mănușă, în timp ce descoperisem și exploatările unui grup de oameni care se luau la drumeții pe unele din traseele și munții locali, documentând unde au mers și ce au văzut în aceste părți ale lumii. Mi-am găsit inspirația în asta și m-am gândit că va face un proiect bun. Am făcut puțină cercetare pentru a vedea ce altceva pot găsi, în termeni de litere sau fonturi existente pe această temă. Cantitatea de informații pe care am găsit-o ca fiind disponibilă online pe publicații vechi românești a fost mică, astfel am decis să mă apuc de lucru direct, să trasez și reinterpretez cele două litere majuscule care mi-au atras atenția inițial.
OTC Riga is a study and interpretation of a slab-serif, italic, Clarendon, designed for the rendering of titles and/ or lines of visibly different cut text.

OTC Riga este un studiu și interpretare a unui Clarendon, un slab-serif, italic, desemnat pentru redare de titluri și/ sau câteva rânduri de text cu aspect deosebit.

Photos © Mihai Militaru, Adi Marineci & Elisabeta Kindriș

†


Apr 2019 — Type Design Week '19 — a Fred Smeijers Workshop
There is no wrong approach to letters, or maybe, you could try some more…
Coming from a different angle into the type design world, learning on my own about lettering and calligraphy, by observing & drawing letters, watching lectures and reading online; I, for a long time, have wished for such an experience as the one made possible by the Grapho_Mat
︎
team. The same people that are behind
Cele mai frumoase cărți din România
and other good projects.
This year, they've organized Type Design Week in partnership with
Galeria Posibilă
& UNArte and gave us a wonderful time with Mr.
Fred Smeijers,
expert in type, pies and… unfinished books.
This was a 9-5 intensive week long workshop where we were able to literally cut our teeth at making a set of minuscule letters using two pencils, and a knife, with which we would create a piece of typeset work at the end.
The design approach was hands-on, one of the best ways to make sense of proportions, weight, early design decisions that we would get to carry over the entire set of letters to make it into a coherent bunch.
I won't get too much into the details and constraints of it all, just gonna say this that the grid we were working on, made all the sense in the final day when we were able to calculate and scale down the the word lenght and create our compositions based on those figures alone, which was a nice turn around and a good time saving solution that was probably a custom carried over from early printers.
As a whole, this was an enriching experience from my perspective and a great and fun way to cutting stencil letters in a mostly digital time and space.
I am grateful to the Grapho_Mat team and Mr. Smeijers for this opportunity to learn new old ways of cutting type right. Thank you!
Till next time…
Nu există o abordare greșită a literelor, sau poate, mai încercă...
Venind dintr-un unghi diferit în lumea designului de literă, învățând despre litere și caligrafie pe cont propriu, prin observarea și desenarea literelor, urmărirea prezentărilor și citind online; pentru mult timp, mi-am dorit să iau parte la o asemenea experiență ca cea realizată de echipa Grapho_Mat
︎
. Aceiași oameni ce se află în spatele
Celor mai frumoase cărți din România
și alte proiecte bune.
În acest an, au organizat Type Design Week împreună cu
Galeria Posibilă
& UNArte și ne-au oferit un moment minunat cu domnul Fred Smeijers, expert în litere, plăcinte și ... cărți neterminate.
Acesta a fost un atelier de lucru intens de o săptămână de la 9-5, unde am fost determinați literalmente să ne ascuțim dinții dezvoltând un set de litere minuscule, folosind două creioane și un cuțit, pe care urma a le folosi în lucrarea de la final.
Abordarea de proiectare a fost practic, una dintre cele mai bune modalități de a face sens de proporții, greutate, deciziile de proiectare de început pe care urma să le ducem pe întregul set de litere pentru a le transforma într-un buchet coerent.
Nu voi intra prea mult în detaliile și constrângerile din toate acestea, doar am să spun că rețeaua pe care am lucrat, a făcut cu totul sens în ultima zi când am putut calcula și reduce dimensiunea cuvântului și astfel crea compoziții bazate exclusiv pe acele cifre, ceea ce a fost o întoarcere faină și o bună soluție de economisire a timpului, ce a fost, probabil, un obicei transferat de la tipografii timpurii.
În ansamblu, aceasta a fost o experiență bogată din perspectiva mea și o modalitate extraordinară și amuzantă de a tăia litere de tip stencil într-un timp și spațiu în mare parte digital.
Sunt recunoscător echipei Grapho_Mat și domnului Smeijers pentru această ocazie de a învăța noi vechi maniere de a tăia litere fain. Mulțumesc!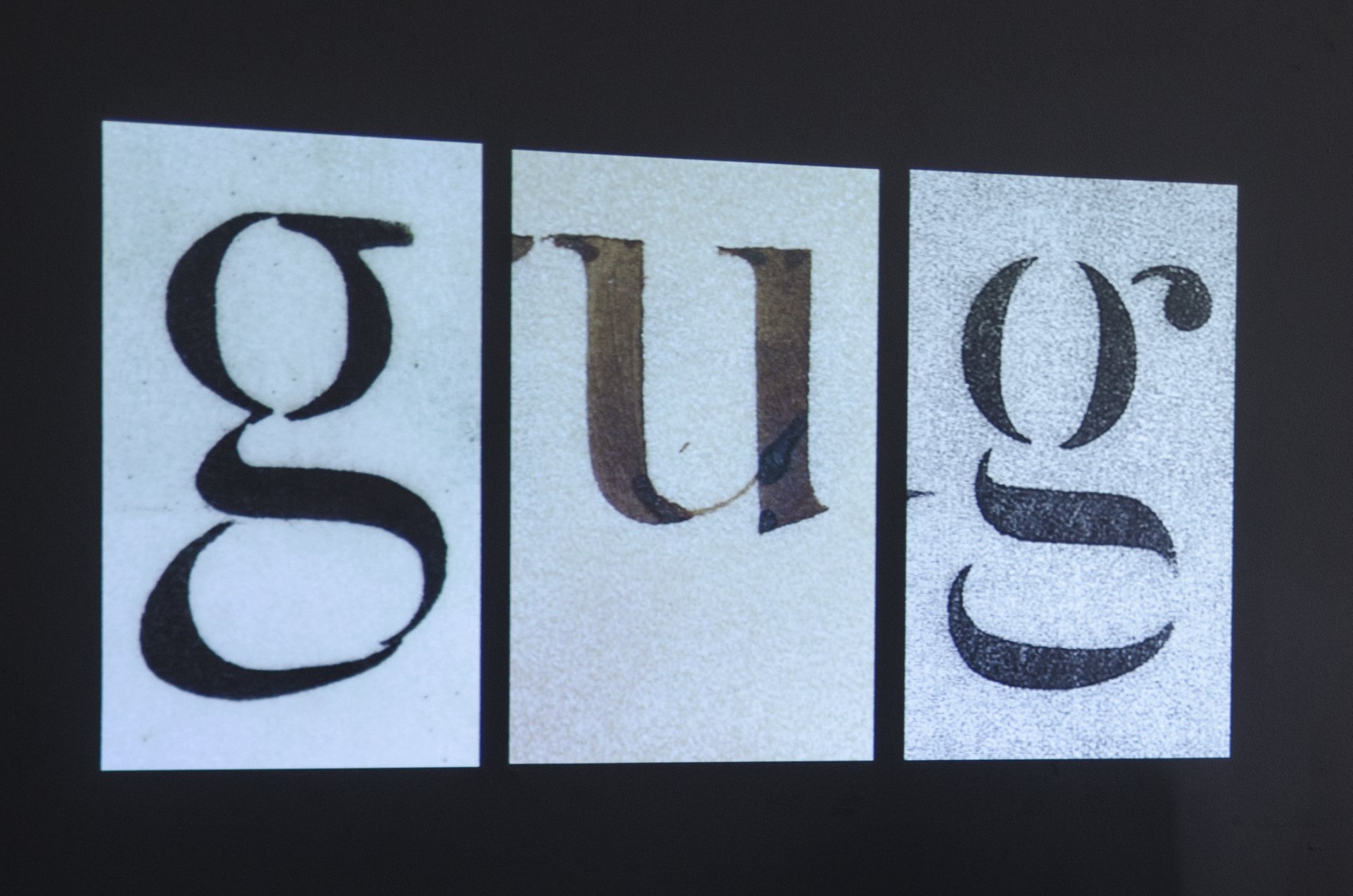 Go forth and be well! Photos © Grapho_Mat.
†



Apr 2019 — Ce face o literă — Workshop series
What makes a letter? It's a real question, just like any unicorn can be. How many ways could one person look at, interpret, decipher, or creat a letter? Out of scratch? Well, for starters, there have been others before, that have used letters, they have written with them, in various ways and in different styles, defined by their time, or by the way in which the letters where rendered. Long story short…
On Saturday the 6th of April, with the good help of the fine people from
Seneca Anticafe
, we held a workshop to figure it out. I thought best to start with the Italic hand, for its ease of use, yet make it a little bit difficult and write it with a flat brush.
These were some of the results of our first encounter: brush strokes exercices and the letter A & a with some variations.
Ce face o literă? Este o întrebare reală, la fel cum orice inorog poate fi. În câte feluri ar putea o persoană să privească, să interpreteze, să descifreze sau să creeze o literă? De la zero? Ei bine, pentru început, au fost alții înainte, care au folosit litere, au scris cu ele, în moduri diferite și în diverse stiluri, definite de timpul lor, sau prin felul în care literele au fost redate. Pe scurt…
Sâmbătă, 6 aprilie, cu ajutorul celor buni oameni din
Seneca Anticafe
, am ținut un atelier pentru a ne da seama. M-am gândit cel mai bine să încep cu stilul Italic, pentru ușurința de utilizare, dar ceva mai dificil și scris cu o pensulă lată.
Acestea au fost unele dintre rezultatele primei noastre întâlniri: exerciții de tușe și litera A & a cu unele variații.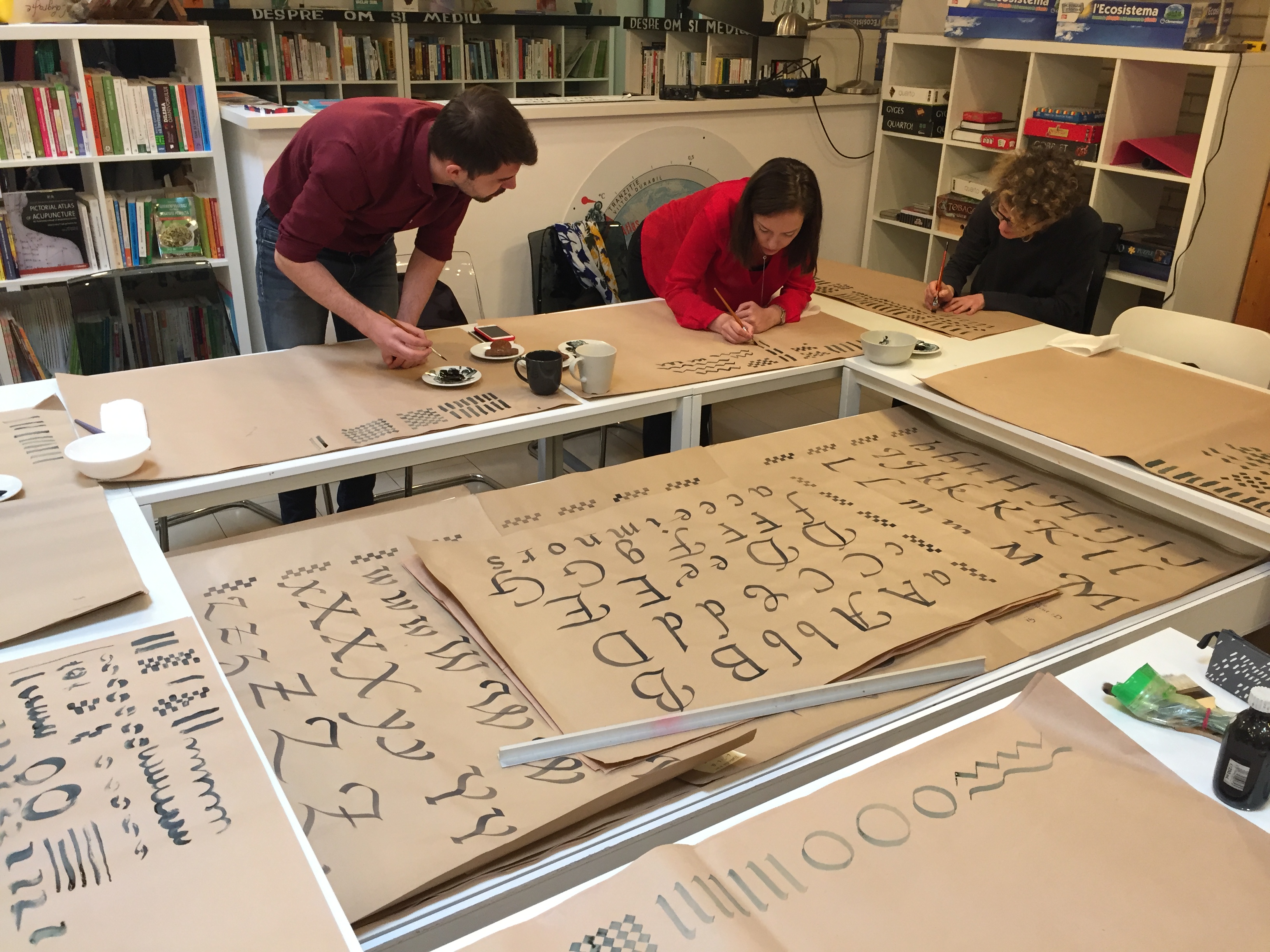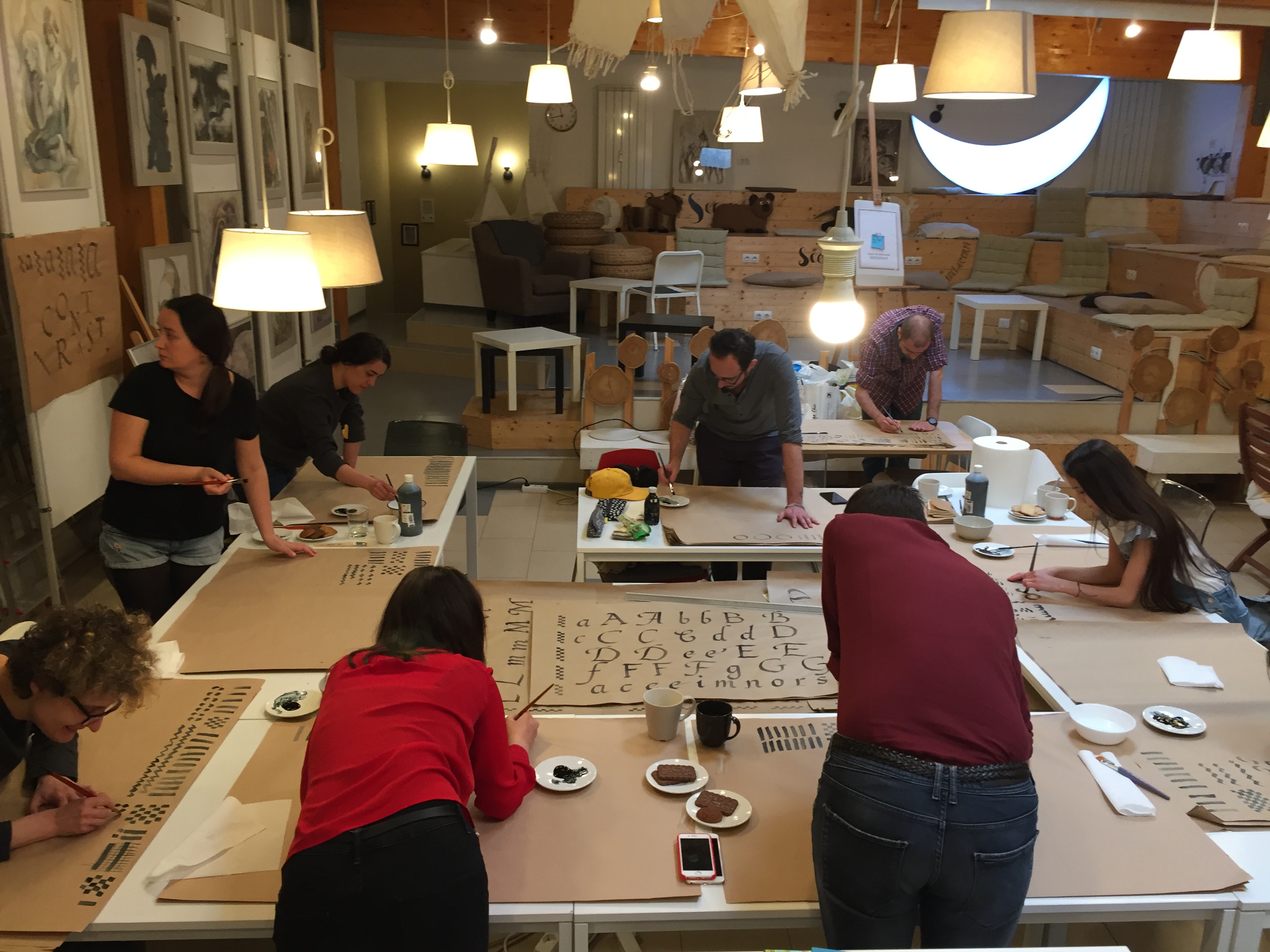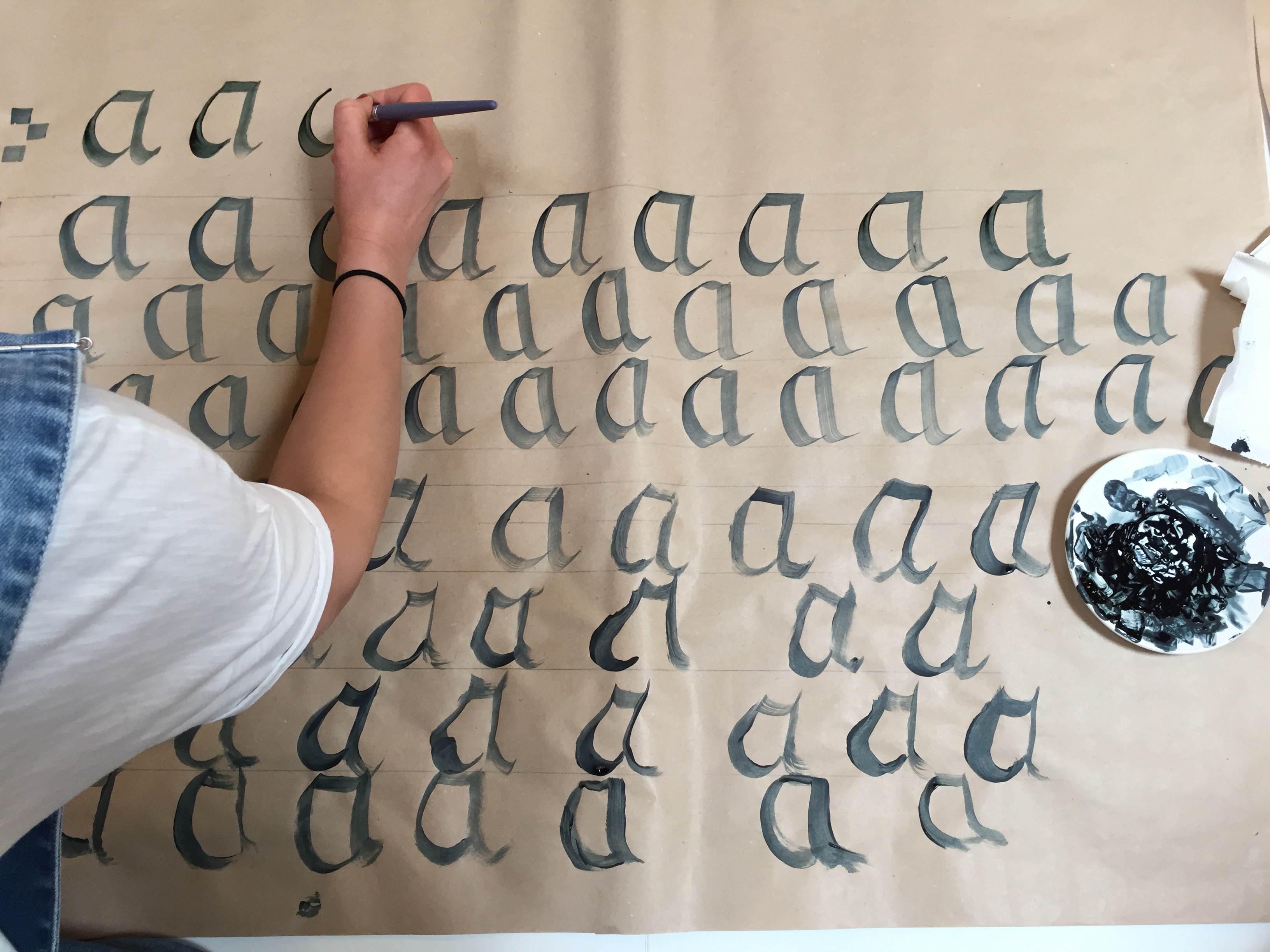 Photos © Seneca Anticafe